TeamCalifornia's 6th Annual Meet the Consultants Forum
April 26, 2017 @ 4:00 pm - April 27, 2017 @ 5:00 pm
Event Navigation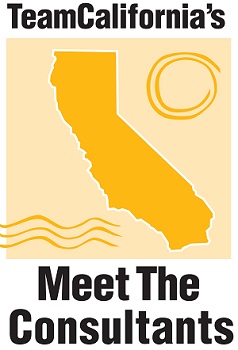 What is TeamCalifornia's Meet the Consultants Forum?
TeamCalifornia's mission as the State's business marketing arm and with a collaborative network of state agencies, cities, counties, economic development organizations, utilities, industry associations and private businesses, promotes business development opportunities, locating and expanding in California.
The purpose of the Annual Meet the Consultants Forum is to provide an opportunity to:
Showcase a California region to Site Selectors
Learn the latest trends in the site selection industry
Network with decision makers and site consultants at private California only meetings
Allow local economic development professionals, elected officials, state agencies, cities, counties, utilities and other interested parties will meet one on one with VIP's
Who Should Attend?
This event is designed for economic development personnel, executive leadership, policymakers, community officials and their state and regional economic development partners.
The Forum opens Wednesday with an evening networking reception. The next day's program includes a networking breakfast, lunch and a series of valuable sessions, where you have the opportunity to meet and talk with speakers and colleagues.
Thursday evening, the Forum concludes with a networking reception and allows attendees to enjoy the region surrounding the Forum.
Why attend?
California economic developers and their counterparts and community leaders will experience a full program of presentations, panel and roundtable discussions.
Led by an outstanding lineup of speakers from among today's most active site consultants and industry executives, this forum will address the leading issues, strategies and best practices necessary to keep your California region prospering with successful economic development attraction and retention programs.
Engage ​with ​site ​selection ​professionals ​in ​ ​meetings, ​presentations, ​and ​round ​table ​discussions ​where ​you'll ​learn ​about ​the ​hottest ​industry ​trends, ​leading ​business ​location ​indicators, ​and ​what ​local ​communities ​must ​do ​to ​stay ​in ​the ​game.